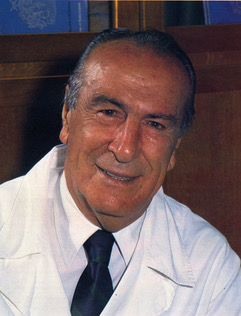 The Fondazione Aldo Torsoli was named after Aldo Torsoli MD, for long decades a highly respected and inspiring member of the international academic medical community.
To preserve Aldo Torsoli's vision and seminal teaching, the Foundation operates in the field of methodology and ethics in clinical research.
The Foundation promotes development and dissemination of new knowledge, principles and methods in generating the scientific evidence needed to clinical decisions, health policy and progress in patients' care.
Rome Foundation – Aldo Torsoli Foundation Research Award 2022
We are pleased to announce a joint award from Rome Foundation with the Aldo Torsoli Foundation in the area of Functional GI Disorders. Candidates must hold an MD or PhD and have an academic record of research, education, and patient care in the area of Disorders of the Gut-Brain Interaction (DGBI, formerly FGID).
Joint Rome Foundation – Fondazione Aldo Torsoli Award.
This is a joint initiative for a prize to scientific leaders in the field of functional gastrointestinal disorders
Programma "fAT21-22"
This is an educational project aimed at education and dissemination of new knowledge on integrity and innovation in clinical research.
Joint Fondazione Aldo Torsoli
Rome Foundation Research 2022 Award
Associate Professor of Gastroenterology and Senior Consultant Gastroenterologist
Dept of Molecular and Clinical Medicine, Inst of Internal Medicine, Sahlgrenska Academy, University of Gothenburg, Gothenburg, Sweden.
Dr Törnblom is a clinical scientist and educator in the field of disorders of gut-brain interaction (DGBI). As a physician, the management of patients with severe, incapacitating GI symptoms not responding to standard therapies is central. His research has a focus on pathophysiologic mechanisms and intervention studies in irritable bowel syndrome, functional dyspepsia, and severe gastrointestinal neuromuscular disease. He is current co-chair in the Rome V committee for Gastroduodenal Disorders and was member of the Rome Foundation Working Team report on Neuromodulators for FGIDs.